ISO Quality Management Systems for Your Business
EPIC Consultants Implements Your System Quickly and Efficiently
ISO Standards have been adopted by more than 90 countries.
EPIC Consultants is here to help your business grow and build a Quality Management System that supports high levels of quality throughout all of your processes. ISO Systems are made for any type of business, from Environmental Management to Information Security, and the consultants from EPIC Consultants can work with your business no matter what. If you're ready to implement these systems and improve your organization while exceeding customer expectations, call EPIC Consultants today.
ISO Quality Management Systems for Your Business:
ISO 9001 - Quality Management System
ISO 14000 - Environmental Management System
ISO 22000 - Food Safety Management System
ISO/ICO 27000 - Information Security Management Systems
ISO/PAS 28000 - Supply Chain Security Management Systems
ISO Quality Management Systems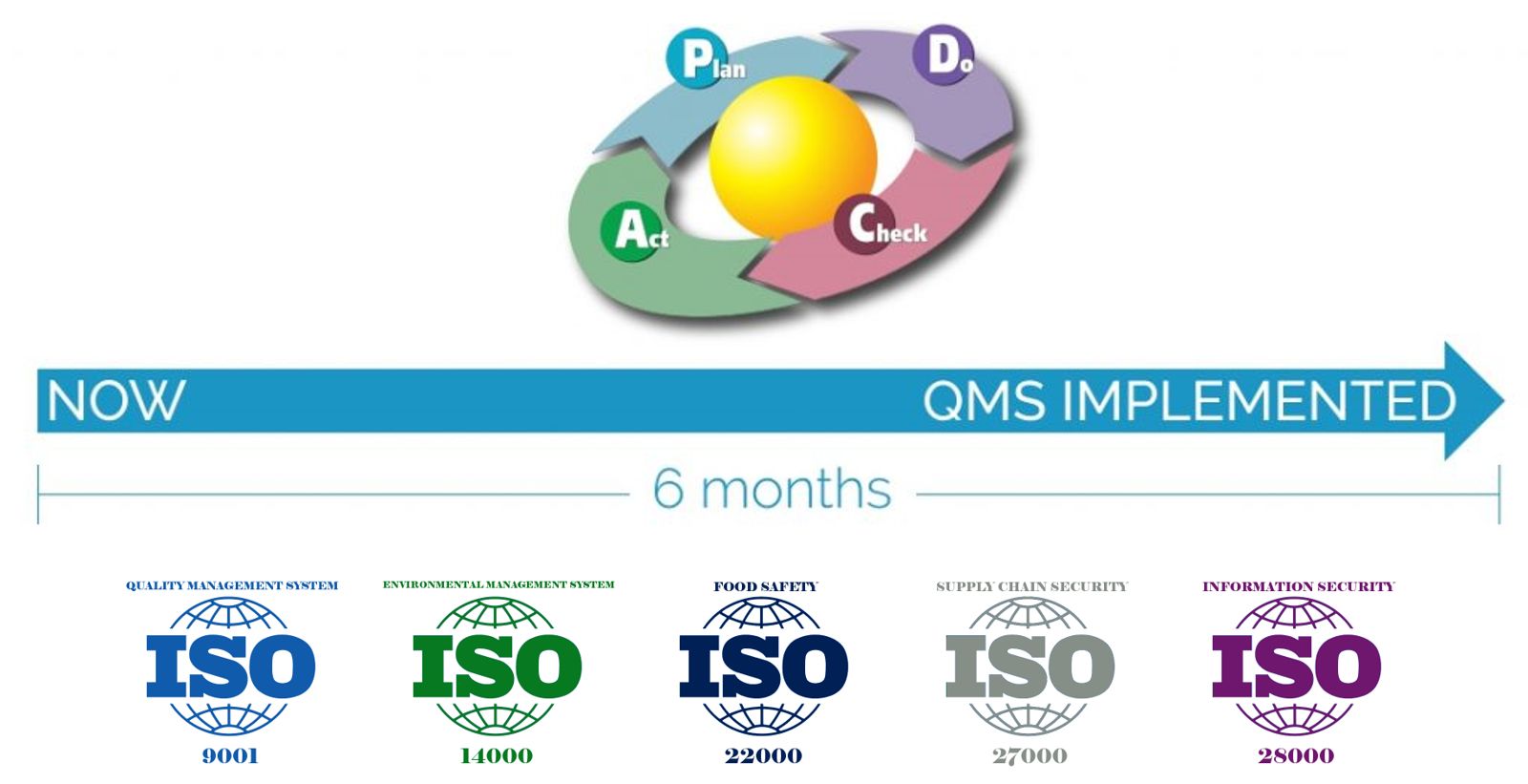 Since the first publication of ISO 9000 in the late 1980's, ISO standards have developed into some of the most widely used management tools in the world today.
They provide companies with a guide to implement, sustain and improve an integrated management system for quality, environmental, security, etc.
ISO Standards have been adopted by more than 90 countries around the world. Business and industry leaders realize that to be competitive in the international market, their organization must be work class. ISO provides the frame work that your organization needs to meet and exceed customer expectations, and establishes the foundation of continuous improvement
Some of the most commonly used ISO Standards are:
ISO 9001 – Quality Management System
ISO 14000 – Environmental Management System
ISO 13485 - Medical Devices
ISO 22000 – Food Safety Management System
ISO/IOC 27000 – Information Security Management Systems
ISO/PAS 28000 – Supply Chain Security Management Systems
Some other standards such as OHSAS 18001 are commonly utilized to form an integrated management system even though they don't come from ISO. The major common point between all the standards that allows them to be integrated is the process approach.
EPIC's team approach allows a fast and effective implementation of your Quality Management System. Our ultimate goal is to build a QMS that will support high levels of quality in all your processes, allowing your organization to meet and exceed customer expectations. Over the years ISO 9001 QMS, has proven to lead companies to better operations, improved performance, and improved profitability.
SUCCESSFUL IMPLEMENTATIONS
"Great Job! EPIC was with us not only during the implementation but during the certification process."
-Lt. Col. James Pearson
Point Blank Enterprises
"EPIC's work has been a major factor in obtaining our certification and re-certifications through these years."
-Martha Haswell, Controller
The USA Bouquet Company
"Outstanding service and follow up."
-Walter Osejo, Vice President
Bluefield International
ISO 9001 is a system adopted by diverse companies all around the world.
It may be attributable to several factors. A number of major purchasers require their suppliers to hold ISO 9001 certification. In addition to several stakeholders' benefits, many studies have identified significant financial benefits for organizations certified to ISO 9001, with a 2011 survey from the British Assessment Bureau showing 44% of their certified clients had won new business.
Internal process improvements in organizations lead to externally observable improvements and the benefit of increased international trade and domestic market share, in addition to the internal benefits such as customer satisfaction, interdepartmental communications, work processes, and customer/supplier partnerships derived, far exceeds any and all initial investment.
Some of the benefits comparing with similar companies without ISO are:
Reduce defects and rework
Increase productivity
Focus on customer requirements
Standardize processes
International recognition
Continuous improvement
ISO 9001 is based on seven quality management principles:

Principle 1 – Customer focus
Organizations depend on their customers and therefore should understand current and future customer needs, should meet customer requirements and strive to exceed customer expectations.

Principle 2 – Leadership
Leaders establish unity of purpose and direction of the organization. They should create and maintain the internal environment in which people can become fully involved in achieving the organization's objectives.

Principle 3 – Engagement of people
People at all levels are the essence of an organization and their full involvement enables their abilities to be used for the organization's benefit.

Principle 4 – Process approach
A desired result is achieved more efficiently when activities and related resources are managed as a process.

Principle 5 – Improvement
Improvement of the organization's overall performance should be a permanent objective of the organization.

Principle 6 – Evidence-based decision making
Effective decisions are based on the analysis of data and information.

Principle 7 – Relationship management
An organization and its external providers (suppliers, contractors, service providers) are interdependent and a mutually beneficial relationship enhances the ability of both to create value.
Even though ISO 9001 is widely used some industries have adapted and standardized their interpretations including specific requirements within their own marketplace:
TickIT: Information Technology industry, especially software development
AS9000: Aerospace Basic Quality System Standard
ISO/TS 16949: Automotive industry
TL 9000: Telecom Quality Management and Measurement System Standard
ISO 13485: Medical industry
ISO/IEC 90003: Computer software
ISO/TS 29001: Petroleum, petrochemical, and natural gas industries
ISO 14000 is a family of standards related to environmental management that exists to help organizations minimize how their operations (processes, etc.) negatively affect the environment (i.e., cause adverse changes to air, water, or land); comply with applicable laws, regulations, and other environmentally oriented requirements; and continually improve in the above.
There are many similarities between ISO 14000 and ISO 9000, especially since both norms focus on processes and how the product is produced and not in the product itself. Many companies choose to have an Integrated Management System that include two or more norms (many industries have specific norms for their segment, and some choose to also include Security and Safety norms such as ISO/IOC 27000 – Information Security Management Systems, ISO/PAS 28000 – Supply Chain Security Management Systems or OHSAS 18001).
ISO/IOC 27000 & ISO/PAS 28000
With growing concerns related to Security in a globalized, tech driven world; ISO developed norms to support structure Management Systems that account for Information Security (ISO/IOC 27000) and Supply Chain Security (ISO/PAS 28000).
ISO/PAS 28000 has broad strategic, organizational and operational benefits that are realized throughout supply chains and business practices:
Integrated enterprise resilience
Systematized management practices
Enhanced credibility and brand recognition
Aligned terminology and conceptual usage
Improved supply chain performance
Benchmarking against internationally recognizable criteria
Greater compliance processes
ISO/IOC 27000 has great value for companies who deal with sensitive / proprietary information and looks for good practices on how to protect themselves to the growing threats in this area.